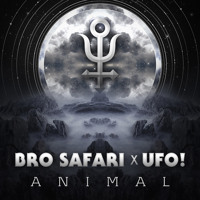 We've been anxious for this album to drop, and now it's finally here.  It's like those TV infomercials for greatest hit collections.  Every track just seems to be exactly what you wanted to hear (at the time).  This masterpiece collection dropped yesterday from the synergistic mind-meld of Bro Safari and UFO!. Animal LP demonstrates versatility, innovation, and experience that is essential to both these composers' processes.  Combining the talents and necessary skills required to release consistently successful solo productions, Bro Safari x UFO! have a talent of bringing out the best in one another to produce at a level much beyond any of their peers.  Each track is a leader in its own respective field, and focusing on the primal nature of humanity, these rage anthems are a jungle-future, cosmic essential for any true rager's music library.  Since it's a FREE DL, we recommend you give them offerings at their next show near you.  It's the least you can do, and yes, undergarments are accepted.
Originally, we created about 16 tracks for the album, and then we narrowed it down to the songs that you have in front of you today. It was important to us that we create a collection of music that crossed multiple styles and genres, yet told a coherent story. It's not an easy thing to do, but we feel like we pulled it off by using themes, samples, techniques and by consciously assessing what did and did not work together.

We feel like there is something for everyone on this record and we're very pleased with the fact that we can offer this to everyone for free. All we ask is that you listen to it with an open mind, share it with your friends and come say hello whenever we play a show in your city.

So, once again – Thank you to each and every person that showed us support over the last few years. We love working together, and have already discussed plans for a follow up album.

For now, enjoy ANIMAL!

- Bro Safari & UFO!