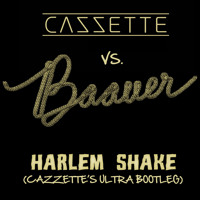 We heard this track at Ultra, and lost our ****.  The crowd was absolutely hypnotized by wizards known as Cazzette. The place went bonkers right as the sun went down, and someway/somehow, the Bassmonsterboyz managed to capture video footage [see below].  If you haven't experienced the Swedish duo that wear giant helmets of cassette tapes, then you have clearly been living out a Bruce Willis in The Sixth Sense-type situation, a.k.a. you've been dead.  Well, get some life in your lungs and hear what the electronic age does to mainstream pop culture.  (Don't get me wrong, I LOVE the original from Baauer, but this is too good.)  Watch as the crowd goes nuts at #ULTRA13. Squad, this is Cazzette.
AND THIS IS CAZZETTE, LIVE AT ULTRA MUSIC FESTIVAL 2013.
Recorded by our very own BASSMONSTERBOYZ, check out the video below:

That looks fun, right?
BONUS: Tim Berg – Alcoholic (Cazzette's Trapleg Mix)