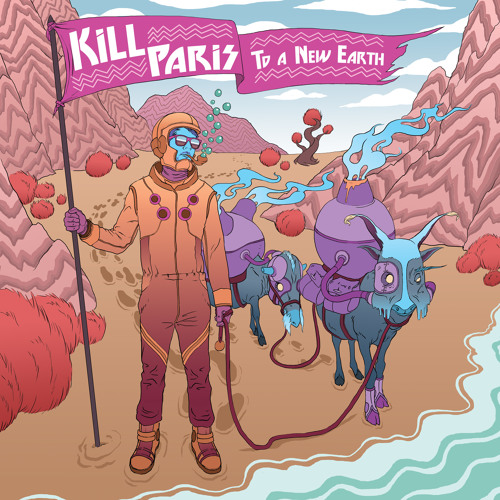 The room is dark and filled with people.  As they wait anxiously with bated breath, a fog slowly creeps over the crowd.  Lights stream down from overhead, and then you hear it.  Softly at first…then louder…kill…paris….Kill…Paris…KILL PARIS!  AAAAHHHHH!!!  The snare hits, the bass drops, and instantly, your body starts rocking in contortions fit for the Cirque du Soleil.  That sweet ear nectar is Future Funk, and Squad, Kill Paris has arrived.
In what I compare to the likeness of superheroes, Corey Baker (a.k.a. Kill Paris) rose from a wrecked Kryptonian vessel, has been bombarded with freak lab accidents, and survived overexposure to gamma radiation.  Fearful of his power, DJ's around the world have treated his tracks like rare, hidden gems.  As their best-kept secret, these filth hoarders have dropped his music to the glee of thousands.  With years of hard work and the supernatural propensity to make girls drop their natural talents, Kill Paris's debut EP, To A New Earth, was released today through OWSLA in celebration of his signing.  (Yay!)  Featuring bass-heavy compatriots GRiZ, K Theory, Candyland, Gramatik, Robert DeLong, and Maor Levi (take a breath, we know… :p), this 9-track compilation is an epic, detailing the apocalyptic battle between the dirty and funky vs. the mundane.  Don't you want to see who wins?  Grab your copy here.
To A New Earth?  I'm there…and it is unbelievable.