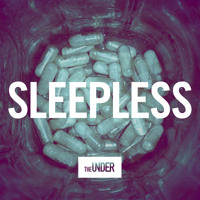 TheUnder's recipe for trap music:
a) You will need: 1 large scoop of TR-808, 1 slice of synth (preferably gritty), and a light sprinkling of glitched vocals
b) Mix all in something ratchet and bake at 420 for 3 minutes 20 seconds. Serve hot. (WARNING: Mouths will be burnt, as people get turnt.)
The result of this recipe is a crunchy trap banger, amply titled "Sleepless." Relative new-comer on the scene, TheUnder came out swinging with this track. Following in the directions of the roots of trap music, this track is an ode to the grinders of music production – producers that are constantly working on their craft and get no sleep in the process to bring you fresh tunes. Gunshots… running high hats… AND a hook drop that will make you scream… what more could you want? Keep an eye out for more trap crushers from The Under. He's got this recipe down like Betty Crocker.